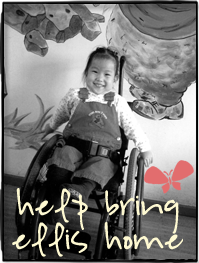 A local family (Kris and Garth), Tell Her This, are adopting the most adorable, beautiful child from China. We posted about her referral back in June.
We would like to ask all of you to please consider entering their raffle (fund raising blog) to help bring Ellis home. They have a Chip-In button to accept raffle donations. The grand prize is an Acer Laptop computer and a FLIP Ultra Camcorder! And don't forget to leave a comment too!
What a fun way to help bring Ellis home to her FOREVER Mommy and Daddy!